Unique Premium Quality Antique Lingam Singing & Talking Bowl – A4 (444Hz)
---
---
Antique Lingam Singing & Talking Bowl. Note: A4 (Third Eye Chakra)
Weight 768 grams (1 lb 11 oz). Size 15 x 7.5 cm (6 x 3 inches)
Antique Lingam Singing & Talking Bowl. Note: A4 (Third Eye Chakra)
Weight 768 grams (1 lb 11 oz). Size 15 x 7.5 cm (6 x 3 inches)
This small antique Lingam Singing Bowls is simply unique, and one if the finest specimens to come into my possession in over 30 years of collecting.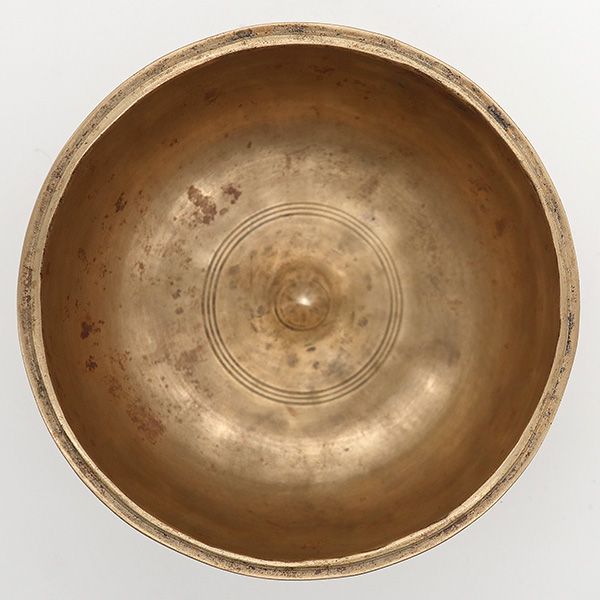 The fundamental note is a middle A (444Hz) when struck or played around the rim and, unusually for a Lingam, this bowl also has talking ability if played with a little water inside.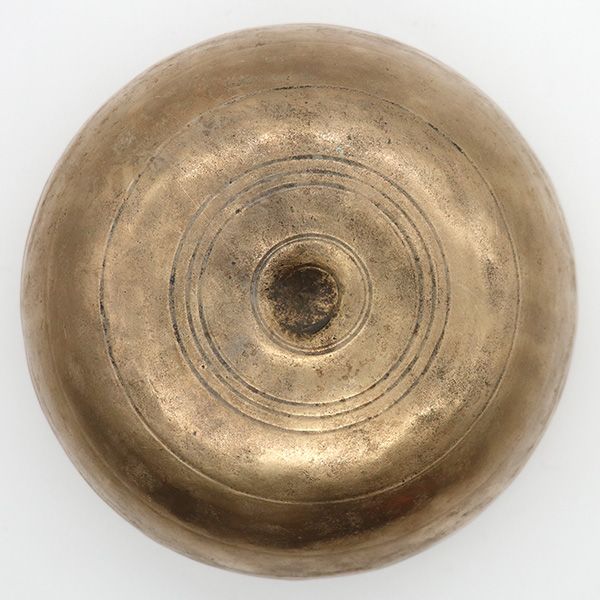 It is heavy for its size, with thick walls and a grooved lip. Concentric circles surround the pointed lingam at its centre, and there is a deep navel or yoni underneath. The bold decorative features of this bowl are quite unique. The two bands of dots immediately below the outer rim are followed by groups of deeply incised lines encircling the entire outer wall at regular intervals all the way to the navel underneath. A faint dot-punched pattern of foliage can just be made out between the first set of lines and the second. Another line encircles the inner rim.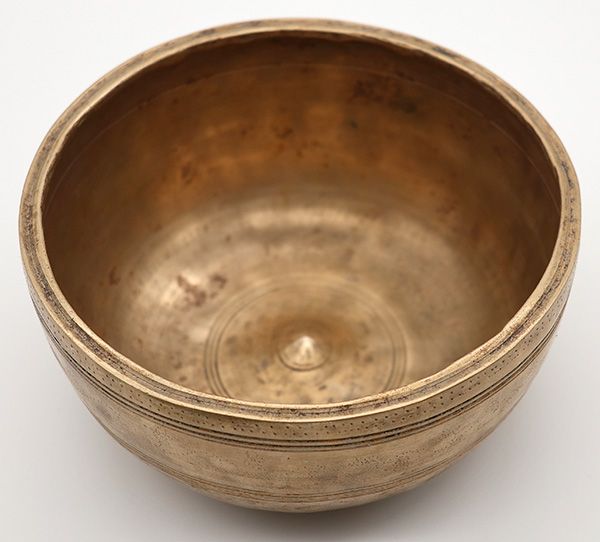 This unique antique Lingam bowl is in fantastic condition, clean, free of stains and blemishes, and with a lovely golden bronze colour.
A superb one-of-a-kind, and very collectable, antique Lingam Singing and Talking Bowl!
A Tibetan silk brocade bowl cushion, and a double-ended teak and suede ringer are included in the price.
{audio}lingam768.mp3{/audio}
Listen: (3 struck notes and 1 played note)