Unique Vibrant 10 ¾-Inch Antique Jambati Singing Bowl – Incredible FIRST OCTAVE B (62.7Hz)
---
---
Jambati Singing Bowl. Notes B1 & F3/E4 (Crown & Heart Chakras)
Weight 1.67 kilos (3 lb 10 ¾ oz). Size 27.5 x 12 cm (10 ¾ x 4 ¾ inches)
Jambati Singing Bowl. Notes B1 & F3/E4 (Crown & Heart Chakras)
Weight 1.67 kilos (3 lb 10 ¾ oz). Size 27.5 x 12 cm (10 ¾ x 4 ¾ inches)
This large, vibrant, fine-walled antique Jambati Singing Bowl is simply unique in having an incredibly low first octave B voice. It is the lowest note I have found in all the tens of thousands of bowls I have personally handled in 30 years of collecting. And furthermore its B1 (62.7Hz) frequency is virtually perfect pitch!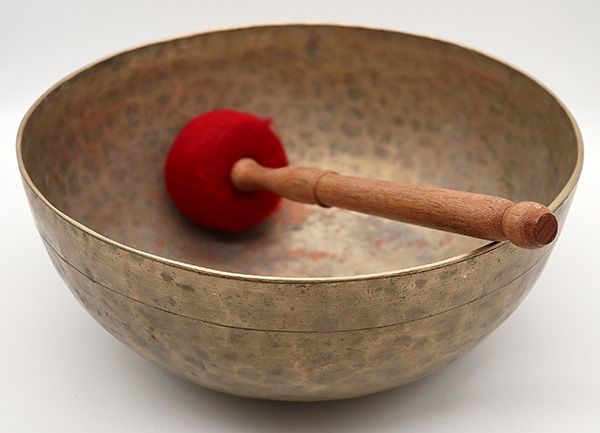 The low B1 fundamental results from the incredible vibrant energy produced by its ultra-fine walls when struck with a padded mallet. The low B1 is also present when played around the rim with a suede ringer, but the accompanying F3 harmonic (176Hz) appears more dominant (especially in the audio clip). This is a multi-harmonic bowl and the rim note changes to a powerful middle E4 (338Hz) with a wooden ringer. The B1 has a strong pulse, and all the notes have excellent long sustains.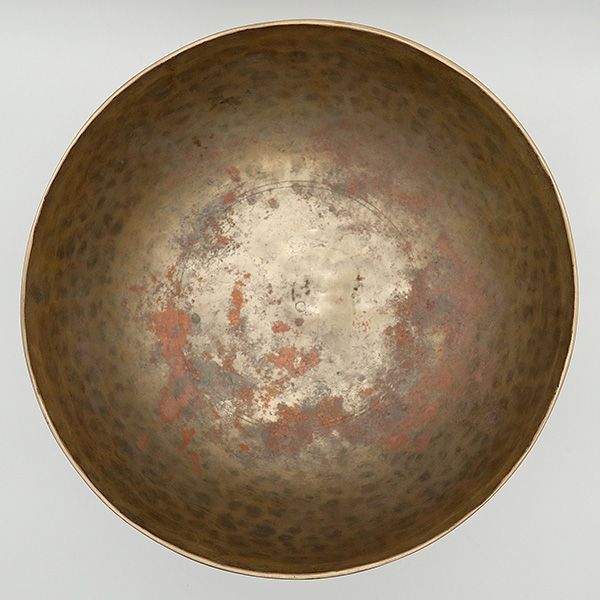 This bowl has been superbly crafted, and has one of the finest evenly beaten walls I have come across. It has a gracefully curved body and a plain sheared lip with a single incised line forming a collar around the outer rim. There is a single tiny circle, sometimes called an eye, at the centre, and a decorative pair of concentric circles some distance away.
It is in excellent structural condition, free of stains and blemishes, with some patches of red copper oxidization inside adding to its aged look.
A beautiful and utterly unique large Jambati bowl!
A Tibetan silk brocade bowl cushion, padded striker, and teak and suede ringer are all included in the price.
{audio}jambati167.mp3{/audio}
Listen: (3 struck notes and 2 played notes, suede then wood)