Unusual Antique E5 (669Hz) 'Shaman Bowl' with Engraved Mandala
---
---
Antique 'Shaman' Singing Bowl. E5 & Bb3 (Solar Plexus & Crown Chakras)
Weight 1 lb 4 oz. (566 grams). Size 17.5 x 5 cm (approx. 7 x 2 inches)
Antique 'Shaman' Singing Bowl. E5 & Bb3 (Solar Plexus & Crown Chakras)
Weight 1 lb 4 oz. (566 grams). Size 17.5 x 5 cm (approx. 7 x 2 inches)
This extraordinary antique singing bowl has a form that many would classify as a 'Shaman Bowl' by virtue of its extreme width to height ratio. It would certainly be well suited to the presentation of herbs and other ingredients in a ritualistic form such a mandala…a motif that is beautifully engraved inside.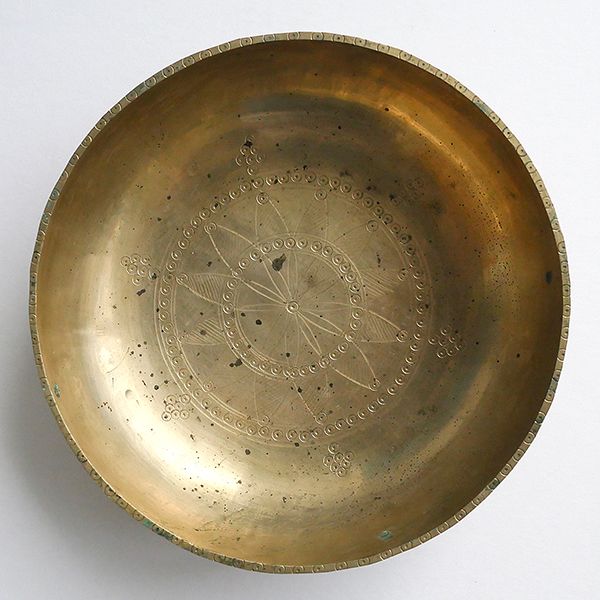 This antique bowl has a very low profile and a large flat bottom. The rim has been cut level and the lip decorated with sun motifs (punched dots within circles). The floor of this bowl has been beautifully engraved with a complex mandala that includes suns set within pairs of parallel concentric circles, the outer one having six clusters of suns in the shape of a lozenge at regular intervals.
The fundamental struck note is a high fifth octave E (669Hz) while the rim note is a third octave Bb that is concert pitch (233Hz). This bowl is structurally sound and basically clean with some light spotting here and there.
A Tibetan silk brocade bowl cushion and a ringer are included in the price.
Note: Audio clips coming soon.