Unusual Antique 'Genie' Singing Bowl – Inscription with Tree & Peacock
---
---
Antique 'Genie' Singing Bowl. G4 (Throat Chakra)
Weight 855 grams (1 lb 14 ¼ oz). Size 19.5 x 13 cm (7 ¾ x 5 ¼ inches)
Antique 'Genie' Singing Bowl. G4 (Throat Chakra)
Weight 855 grams (1 lb 14 ¼ oz). Size 19.5 x 13 cm (7 ¾ x 5 ¼ inches)
This unusual bowl with its rare form has decorative sun motifs around the rim and a large inscription set between a tree and a peacock.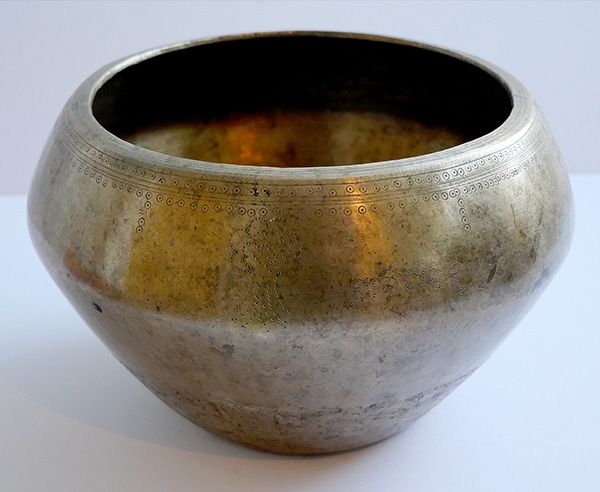 The fundamental note is a nice middle G (396Hz) with a pronounced pulse.
The unique shape of this old bowl results in a sound quality unlike any other. I particularly like the way the sound appears to form inside the bowl…and once it gets going it becomes directional and escapes from its open mouth like a genie in a bottle!
A small Tibetan silk brocade mat and a double-ended teak and suede ringer are included in the price.
{audio}genie855.mp3{/audio}
Listen: (3 struck notes and 1 played note)