Unusual Antique 'Genie' Singing Bowl – Interesting F4 (355Hz) Voice
---
---
Unusual Antique 'Genie' Singing Bowl. Note: F4 (Heart Chakra)
Weight 902 grams (2 lb 0 oz). Size 19.5 x 12 cm (7 ¾ x 4 ¾ inches)
Unusual Antique 'Genie' Singing Bowl. Note: F4 (Heart Chakra)
Weight 902 grams (2 lb 0 oz). Size 19.5 x 12 cm (7 ¾ x 4 ¾ inches)
This extraordinary antique singing bowl has a unique F4 (355Hz) voice when struck with a padded mallet or played around the rim with a suede ringer. It is a responsive bowl that readily sings.
This unusual bowl with its rare form is in excellent condition for its age and has an attractive colour and aged patina. Decoration includes two bands of tiny suns (dots within circles) set above and below an incised line and forming a collar around the outer rim. There is also a bunting-like decoration of downward pointing suns at regular intervals below the collar.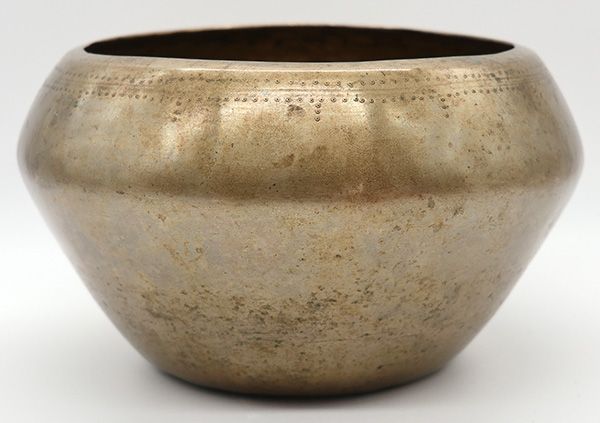 The unique shape of this old bowl results in a sound quality unlike any other. I particularly like the way the sound appears to form inside the bowl…and once it gets going it becomes directional and escapes from its open mouth like a genie in a bottle!
A padded striker and double-ended teak and suede ringer are included in the price.
Note: Audio clips coming soon.