Unusual Antique 'Genie' Singing Bowl – Self-Amplifying Rare A4 (430Hz)
---
---
Unusual Antique Singing Bowl. Note: A4 (Third Eye Chakra)
Weight 1 lb 15 oz. (879 grams). Size 18 x 11.5 cm (7 x 4 ½ inches)
Unusual Antique Singing Bowl. Note: A4 (Third Eye Chakra)
Weight 1 lb 15 oz. (879 grams). Size 18 x 11.5 cm (7 x 4 ½ inches)
This antique singing bowl has a rare and unusual form that gives rise to a degree of self-amplification when struck or played around the rim. The sound appears to form inside the bowl, and once it gets going it becomes directional and escapes from its open mouth like a genie in a bottle.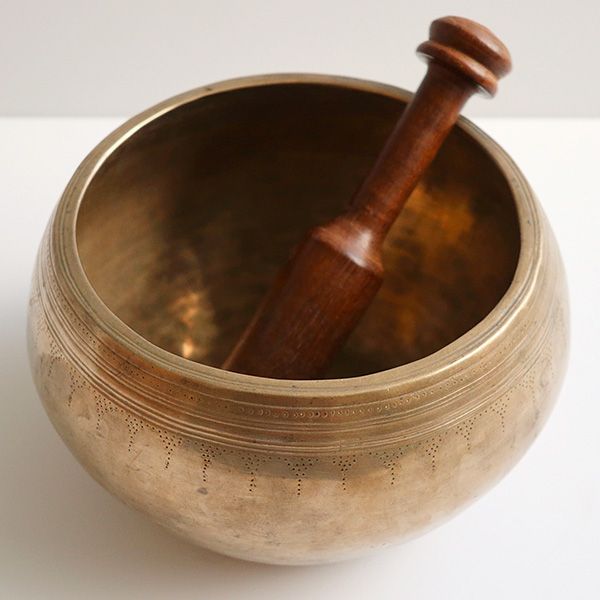 It's a responsive bowl and easy to play. The fundamental note is a rare forth octave A (430Hz) when struck with a padded mallet or played around the rim with a suede or wooden ringer.
This antique bowl has been very well crafted and has an inward-facing grooved lip, circles at its centre, an uncommon feature in this bowl form, and a flat bottom. The decoration includes a band of suns (punched dots within circles) set between parallel lines forming a collar encircling the outer rim. Below this there's another band of bunting-like downward-pointing triangles composed of the same sun motif.
It is in excellent structural condition, clean and stain-free, with an attractive golden bronze colour.
A ringer is included in the price.
{audio}genie879.mp3{/audio}
Listen: (3 struck notes and a played note)