Unusual Antique Singing Bowl – B3 & Powerful F#5 – Inscribed
---
---
Antique Singing Bowl. Notes B3 & F#5 (Crown & Heart Chakras)
Weight 703 grams (1lb 8 ¾ oz). Size 20 x 7.5 cm (approx. 7 ¾ x 3 inches)
Antique Singing Bowl. Notes B3 & F#5 (Crown & Heart Chakras)
Weight 703 grams (1lb 8 ¾ oz). Size 20 x 7.5 cm (approx. 7 ¾ x 3 inches)
This antique singing bowl has a very unusual form with its low gracefully curved wall and flange lip. There are circles at its centre and decorative bands below the rim and around the belly; the latter now faint. And there is also a faint inscription, a sure sign that a former owner held this bowl in high esteem.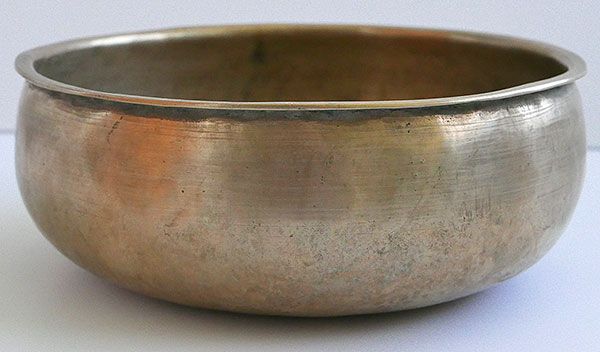 It has a third octave B fundamental (245-250Hz) that is close to concert pitch when struck with a padded mallet or played around the rim with a suede ringer. The rim note changes to a powerful fifth octave F# (730Hz) with a wooden ringer.
This lovely antique bowl is in excellent structural condition and has a nice golden bronze colour.
A Tibetan silk brocade bowl cushion and a ringer are included in the price.
Note: Audio clips coming soon.