Unusual Antique Singing Bowl – B4 Note (484Hz)
---
---
Unusual Antique Singing Bowl. B4 (Crown Chakra)
Weight 1 lb 4¼ oz. (578g). Size 14 (rim) x 8 cm (approx. 5¼ x 3¼ inches)
Unusual Antique Singing Bowl. B4 (Crown Chakra)
Weight 1 lb 4¼ oz. (578g). Size 14 (rim) x 8 cm (approx. 5¼ x 3¼ inches)
This antique singing bowl has an interesting and very unusual shape. It has a downward sloping flange-like rim and a bulbous body that is extensively decorated with incised banding.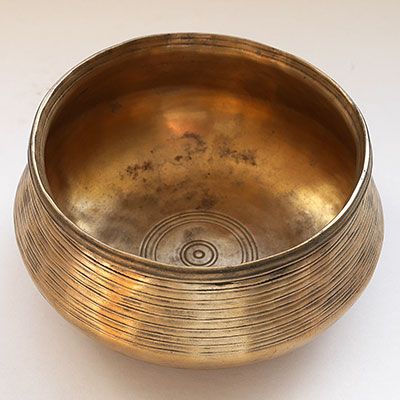 These bands, or grooves, begin high up on the inside of the rim and around its edge, then continue down the outer wall to just beyond the midpoint where the wall changes direction and curves back in toward the base. The decorated upper part contrasts with the rest of the bowl which is largely plain and smooth. There are two groups of boldly incised concentric circles at the centre of the bowl.
The fundamental note is an interesting middle B when struck or played. A ringer is included in the price.
Note: Audio clips coming soon.