Unusual Antique Singing Bowl with Distinctive F3 Voice (176Hz)
---
---
Unusual Antique Singing Bowl. F3 (176Hz) Heart Chakra
Weight 1 lb 9 ¾ oz (736 grams). 17.5 x 9 cm (approx. 7 x 3 ½ inches)
Unusual Antique Singing Bowl. F3 (176Hz) Heart Chakra
Weight 1 lb 9 ¾ oz (736 grams). 17.5 x 9 cm (approx. 7 x 3 ½ inches)
This unusual antique Singing Bowl has a very distinctive third octave F fundamental (176Hz) with some interesting B4 and Bb5 harmonics, especially when played with a wooden ringer. It's a responsive bowl and very easy to play.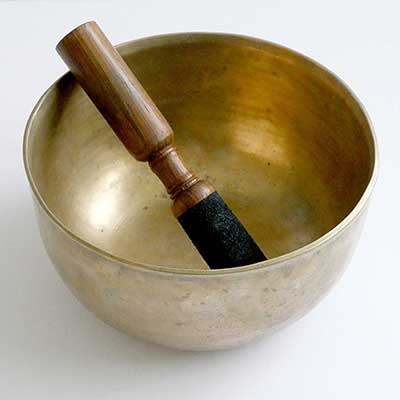 It has a flat bottom and straight high-sided walls that splay bell-like at the rim. Decoration is minimal…a couple of circles on the inside floor and below the outer rim, and around its middle…all rather faint now. It's an attractive bowl, clean and structurally sound…with an interesting and rather beautiful voice.
A Tibetan silk brocade bowl cushion and teak and sued ringer are included in the price.
{audio}uthado731.mp3{/audio}
Listen: (3 struck notes and 2 played notes – suede then wood)