Unusual 'Genie' Antique Singing Bowl – F#4 (380Hz) & Peacock Inscription
---
---
Unusual Antique Singing Bowl. F#4 Note (Heart Chakra)
Weight 1 lb 14 oz. (786g). Size 20 x 12.5 cm (approx. 8 x 5 inches)
Unusual Antique Singing Bowl. F#4 Note (Heart Chakra)
Weight 1 lb 14 oz. (786g). Size 20 x 12.5 cm (approx. 8 x 5 inches)
This extraordinary antique singing bowl has a unique voice and also benefits from an excellent inscription.
The fundamental struck note is a very interesting and powerful mid octave F# (375Hz) when struck with a padded striker. The rim note is the same F4 when played with a suede ringer, but changes to a high sixth octave C (1,030Hz) if a wooden one is employed. It sits comfortably in the hand and is easy to play.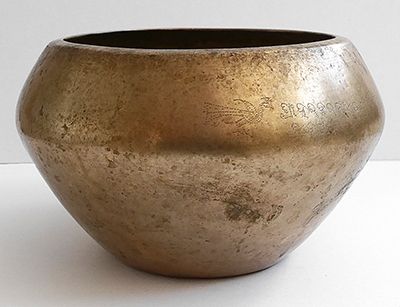 This unusual bowl with its rare form is in excellent condition for its age. It's a little grubby in places but has an attractive golden colour and is largely free of stains and blemishes.
Decoration includes a few well-worn circles at its centre, a fine line along its lip, and several incised parallel lines forming a (now faint) collar just below the outer rim. Two decorative bands of sun motifs (a punched dot surrounded by a circle) sit between and below the lines, although these are now faint. There is also an excellent inscription spanning 1½ short lines, and set between a pair of facing peacocks.
The unique shape of this old bowl results in a sound quality unlike any other. I particularly like the way the sound appears to form inside the bowl…and once it gets going it becomes directional and escapes from its open mouth like a genie in a bottle! However, it is the powerful struck note that impresses.
A double-ended teak and suede ringer is included in the price.
{audio}uthado786f.mp3{/audio}
Listen: (3 struck notes and 1 played note)