Unusual 'Genie' Antique Singing Bowl – G4 (397-403Hz)
---
---
Unusual Antique Singing Bowl. G4 Note (Throat Chakra)
Weight 1 lb 6½ oz (640 grams). Size 7 x 4¼ inches (17.5 x 11 cm)
Unusual Antique Singing Bowl. G4 Note (Throat Chakra)
Weight 1 lb 6½ oz (640 grams). Size 7 x 4¼ inches (17.5 x 11 cm)
This extraordinary antique singing bowl has a unique voice; a penetrating mid octave G fundamental that is particularly nice when struck. The rim note is the same G4 when played with a suede or wooden ringer. It sits comfortably in the hand and is easy to play.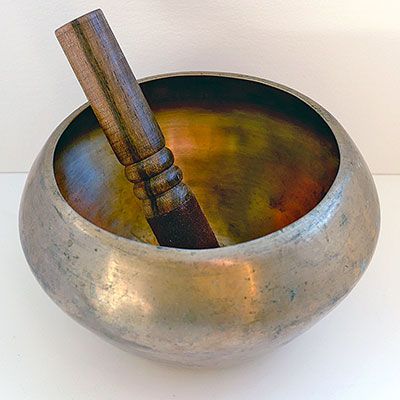 This unusual bowl with its rare form (I've only seen two others like it) is in excellent condition for its age and has an attractive golden colour. A faint decorative line encircles the bowl below the rim, but any other features it may once have possessed have been worn away with the passage of time.
The unusual shape of this old bowl results in a sound quality unlike any other. I particularly like the way the sound appears to form inside the bowl…and once it builds up it becomes directional and escapes from its open mouth like a genie in a bottle! And if, after striking it, one moves about with the bowl in hand, there is a strange sense of carrying and transporting the sound as opposed to simply creating and releasing it. A small padded striker and a ringer are included in the price.
{audio}uthado640g4.mp3{/audio}
Listen: (3 struck notes and 1 played note)