Unusual Singing Bowl – E4 (321Hz) – Distinctive Sound, Sun Motif
---
---
Unusual Antique Singing Bowl. E4 (Solar Plexus Chakra)
Weight 2 lb 1 ¾ oz (957g). 19 x 10.5 cm (approx. 7 ½ x 4 ½ inches)
Unusual Antique Singing Bowl. E4 (Solar Plexus Chakra)
Weight 2 lb 1 ¾ oz (957g). 19 x 10.5 cm (approx. 7 ½ x 4 ½ inches)
This large antique singing bowls has a rare globular form and a very distinctive sound; no doubt due to its unusual shape. This is a very responsive bowl. The fundamental note is a fabulous mid octave E4 (321Hz) whether struck or played around the rim. The struck note has a good sustain, and the played note is particularly beautiful.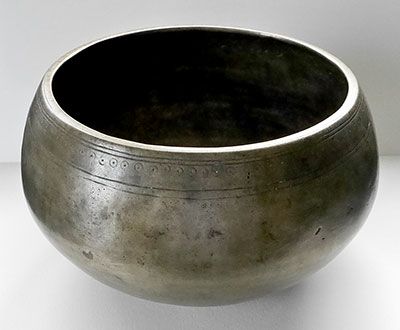 This is clearly a very old bowl. Its decorative features include a grooved lip and two pairs of incised lines forming a collar below the rim.
A chain of sun motifs (punched dots within circles) is set between the pairs of lines encircling the bowl. And below this there are a series of bunting-like downward-facing triangles, also composed of suns. This pattern of sun-motif triangles is quite faint in places, having been worn down with the passage of time, but it is still evident on close inspection.
This unusual old bowl has bags of character and the look and feel of antiquity. It is in excellent structural condition, and has the rich patina of age and use.
A double-ended teak and suede ringer is included in the price.
Note: Audio clip coming soon.