Unusual Small Antique 'Genie' Singing Bowl – Self-Amplifying D5 (596Hz)
---
---
Unusual Antique Singing Bowl. Note: D5 (Sacral Chakra)
Weight 0 lb 12 oz. (343 grams). Size 12.5 x 8 cm (5 x 3 inches)
Unusual Antique Singing Bowl. Note: D5 (Sacral Chakra)
Weight 0 lb 12 oz. (343 grams). Size 12.5 x 8 cm (5 x 3 inches)
This small antique singing bowl has a rare and unusual form that gives rise to a degree of self-amplification when struck or played around the rim. The sound appears to form inside the bowl, and once it gets going it becomes directional and escapes from its open mouth like a genie in a bottle. This is particularly noticeable when the ear is placed close to the bowl after striking it, when the sound appears to be coming from inside the bowl.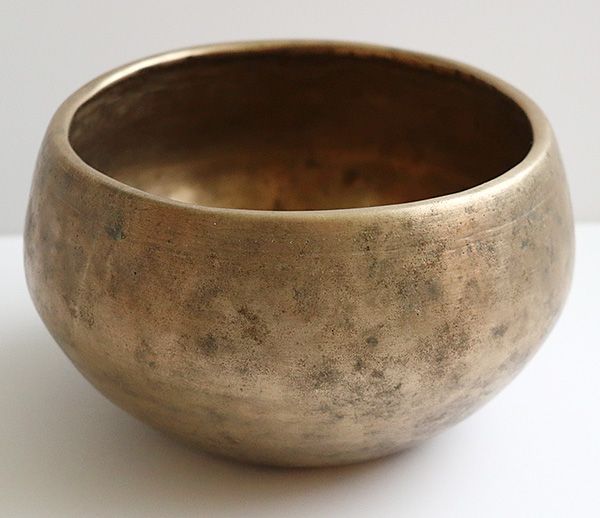 It's a responsive little bowl and easy to play. The fundamental note is a fifth octave D (596Hz) when struck or played around the rim with a wooden ringer.
This bowl shows evidence of long use and some of its decorative features are a little less obvious now. These include a band of suns (punched dots surrounded by circles) set between parallel lines forming a collar encircling the outer rim. There is also a decorative band of bunting-like downward-pointing triangles composed of the same sun motif. Only the dot centres of the suns remain. Unusually for this type of bowl, there are also a series of ritual gashes above the shoulder on the outer wall.
It is in excellent structural condition, with clean the look and feel of antiquity. It has a matt bronze colour with some aged patina.
A bowl mat and ringer are included in the price.
Note: Audio clips coming soon.