Unusual Tiny Antique Singing Bowl – G5 (806Hz)
---
---
Antique Singing Bowl. Note G5 (806Hz) Throat Chakra)
Weight 295 grams (0 lb 10 ¼ oz). Size 11 x 5 cm (approx. 4 ¼ x 2 inches)
Antique Singing Bowl. Note G5 (806Hz) Throat Chakra)
Weight 295 grams (0 lb 10 ¼ oz). Size 11 x 5 cm (approx. 4 ¼ x 2 inches)
This tiny antique Singing Bowl has an attractive and uncommon form, and sits comfortably in the palm of the hand when playing. It has circles at its centre and multiple decorative bands around the rim and below. It is structurally sound and has a nice golden bronze colour.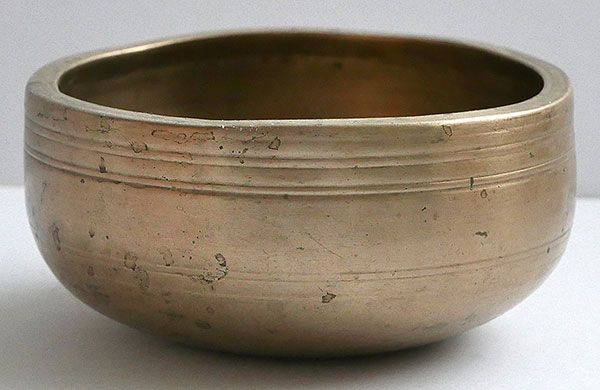 The struck note is a fifth octave G (806Hz) when struck or played around the rim.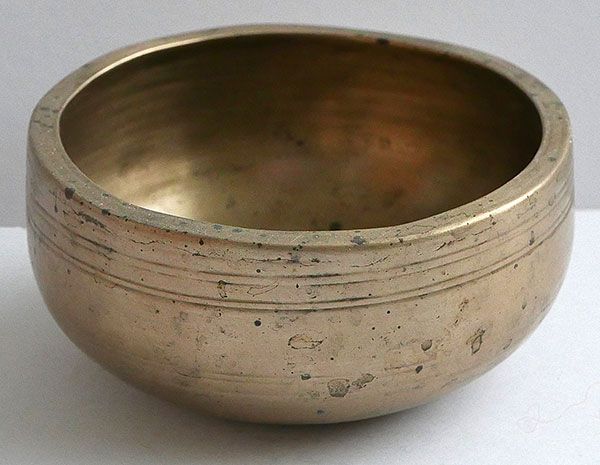 A Tibetan silk brocade bowl cushion and a ringer are included in the price.
Note: Audio clips coming soon.