Versatile Antique Thadobati Singing and Talking Bowl – Rare A3 (221Hz-226Hz)
---
---
Antique Thadobati Singing Bowl. Notes: A3 & E5/Eb6 (Root Chakra)
Weight 1 lb 10 oz. (736 grams). Size 18.5 x 8 cm (7 ¼ x 3 ¼ inches)
Antique Thadobati Singing Bowl. Notes: A3 & E5/Eb6 (Root Chakra)
Weight 1 lb 10 oz. (736 grams). Size 18.5 x 8 cm (7 ¼ x 3 ¼ inches)
This versatile Antique Thadobati Singing Bowl has unusual talking abilities when played with a little water inside, and is even capable of producing fountains.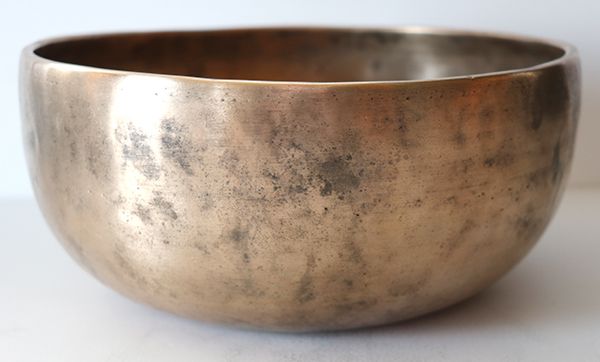 The fundamental note is a rare third octave A (221Hz – 226Hz) when struck with a padded mallet or played around the rim with a suede ringer. The rim note changes to a fifth octave E (622Hz) or a sixth octave Eb (1233Hz) with a wooden ringer.
It's an older bowl (circa 1800) with the typical Thadobati form, and a band of dots around the rim, but any other decorative features it might once have possessed have been worn away with use over its lifetime. This interesting bowl is structurally sound and clean.
A Tibetan silk brocade bowl cushion and a double ended teak and suede ringer are included in the price.
Note: Audio clips coming soon.