Very Rare Antique Remuna Singing and TALKING Bowl – C4 (256Hz)
---
---
Antique Remuna Singing & Talking Bowl. C4 (256Hz) Root Chakra
Weight 2 lb 0¾ oz (926 grams). 18 x 10 cm (approx. 7 x 4 inches)
Antique Remuna Singing & Talking Bowl. C4 (256Hz) Root Chakra
Weight 2 lb 0¾ oz (926 grams). 18 x 10 cm (approx. 7 x 4 inches)
Antique Remuna Singing bowls are few and far between, and Talking bowls even more so. So finding a Remuna that is also a talking bowl is exceptionally rare…indeed, this is the first Talking Remuna that I have come across in 30 years of collecting.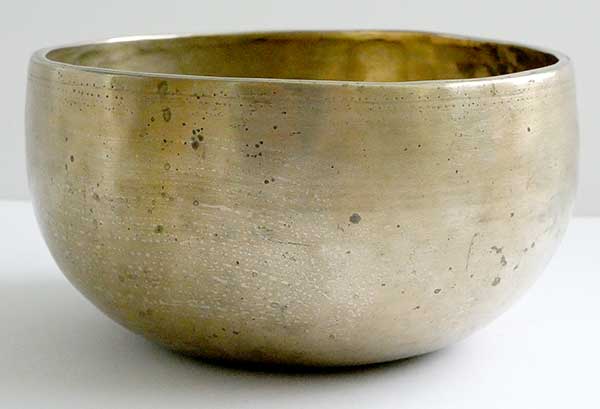 This particular Remuna bowl is uncharacteristically large and heavy, and it also has an unusual scalloped decoration bordering the outer rim, as well as having a grooved lip and circles at its centre. It has the typically pure voice of a Remuna, a middle C (256Hz) with a B harmonic, but also benefits from one of the best talking voices I have come across when played and rocked with a little water inside.
This bowl is in excellent structural condition. It is basically very clean although there is a small patch of oil high up on the inside wall that could probably be removed. A Tibetan silk brocade bowl cushion and a double-ended teak and suede ringer are included in the price.
A very rare bowl indeed!
{audio}remuna926.mp3{/audio}
Listen: (2 struck notes and 1 played note)