Very Rare Small Antique 'Genie' Singing Bowl with Sun Motifs C5 (532Hz)
---
---
Unusual Antique Singing Bowl. C5 (532Hz) Root Chakra
Weight 0 lb 12 oz (338 grams). 12.5 x 8 cm (approx. 5 x 3 inches)
Unusual Antique Singing Bowl. C5 (532Hz) Root Chakra
Weight 0 lb 12 oz (338 grams). 12.5 x 8 cm (approx. 5 x 3 inches)
The form of this little antique singing bowl is extremely rare, and this is the smallest of its kind I have come across in 30 years of collecting. It is also the prettiest, with its decorative collar of sun motifs (circles with dots at the centre) and bunting-like downward-facing triangles of suns surrounding its shoulder. It is beautifully constructed and in excellent condition.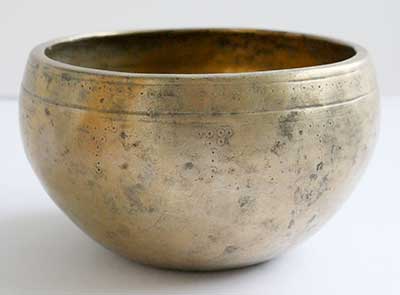 The fundamental struck note is a fifth octave C (532Hz) while the played note is sometimes a C#5 (544Hz). This little bowl nestles comfortably in the palm of the hand and is an absolute delight to hold and play. Its unusual shape produces a very distinctive sound when struck or played. The struck note in particular seems to hold the sound within the bowl before releasing it from the open mouth, like a genie from a bottle. It's very strange walking around with a bowl full of sound! A ringer is included in the price.
I love this little bowl and will be sorry to see it go!
Note: Audio clips coming soon.