Vibrant 11" Golden Antique Jambati Singing Bowl – Pulsating Low Eb2 & Rare A3
---
---
Antique Jambati Singing Bowl. Notes: Eb2 & A3 (Solar Plexus & Third Eye Chakras)
Weight 4 lb 6 ½ oz. (1.94 kilos). Size 28 x 12 cm (11 x 4 ¾ inches)
Antique Jambati Singing Bowl. Notes: Eb2 & A3 (Solar Plexus & Third Eye Chakras)
Weight 4 lb 6 ½ oz. (1.94 kilos). Size 28 x 12 cm (11 x 4 ¾ inches)
This is a large superior quality 11" antique Jambati Singing Bowl dating from around 1800 with a wonderful low pulsating second octave Eb (79Hz) fundamental when struck with a padded mallet, and a superb and rare third octave A (222Hz) harmonic when played around the rim with a suede ringer. It has lots of vibrant energy and a powerful and distinctive voice.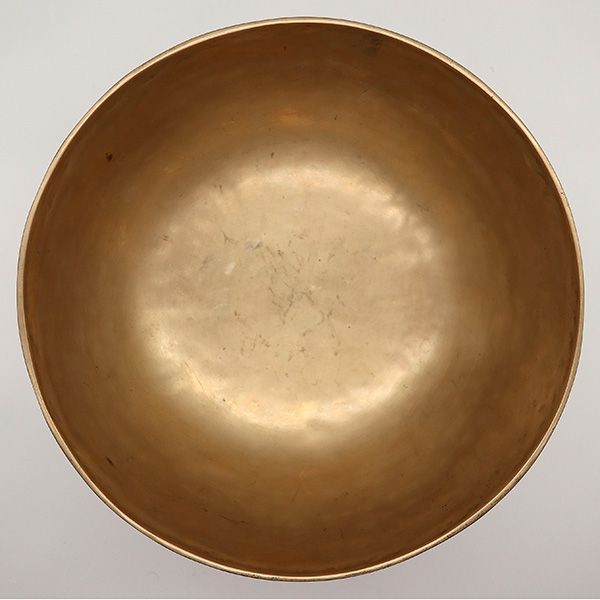 This expertly crafted bowl has very fine walls and a plain sheered lip, making it light for its size and comfortable to hold and play for an extended period without tiring. It has seen long service…the concentric circles that once decorated the centre have disappeared and its hammered wall has been worn smooth with the passage of time. The single band around the outer rim is now barely visible.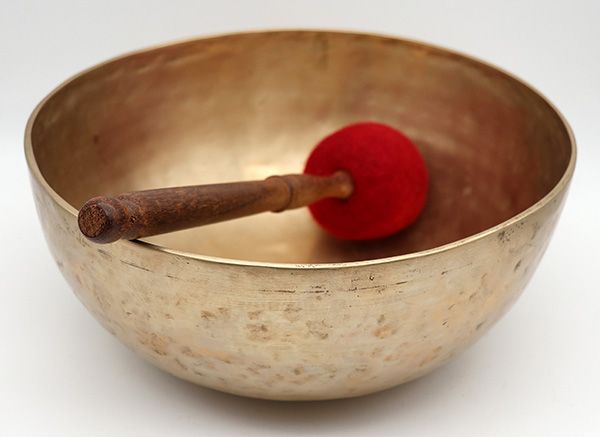 This lovely old bowl is in excellent structural condition, clean and stain-free, with a bright golden bronze colour.
A Tibetan silk brocade cushion, a padded striker, and a double-ended teak and suede ringer are all included in the price.
{audio}jambati1-94.mp3{/audio}
Listen: (4 struck notes and 2 played notes)