Vibrant Fine-Walled 10 ¾ " Antique Jambati Singing Bowl – F2 Multi-Harmonic
---
---
Jambati Singing Bowl. Notes F2 B3, C4 & B4 (Solar Plexus, Crown & Root Chakras)
Weight 1.66 kilos (3 lb 10 ½ oz). Size 27 x 12.5 cm (10 ¾ x 5 inches)
Jambati Singing Bowl. Notes F2 B3, C4 & B4 (Solar Plexus, Crown & Root Chakras)
Weight 1.66 kilos (3 lb 10 ½ oz). Size 27 x 12.5 cm (10 ¾ x 5 inches)
This large 19th century Jambati Singing Bowl has several superb voices…a low pulsating second octave F2 fundamental (87Hz) when struck with a padded mallet, and multiple harmonics when played around the rim with a suede or wooden ringer.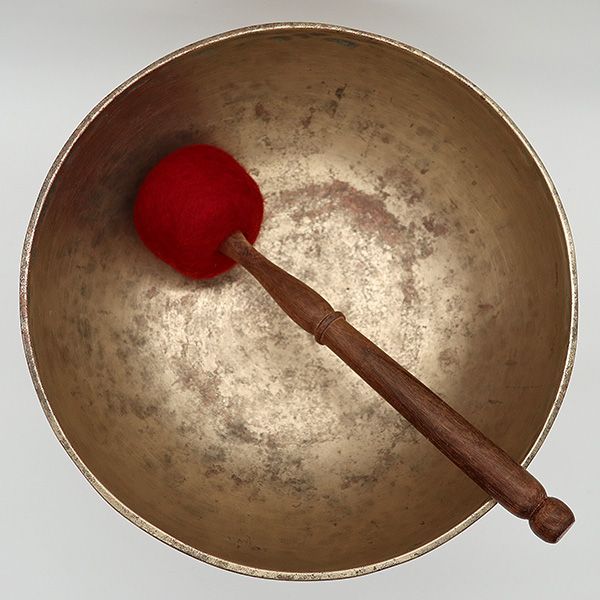 A suede ringer produces a third octave B3 (253Hz) that progresses to middle C4 (257Hz), while a wooden ringer brings out a perfect pitch middle B4 (293Hz). It has lots of vibrant energy and is capable of producing fountains if played with a little water inside.
This bowl has fine walls and a plain sheered lip with a single decorative line encircling the outer rim, but the circles at its centre have long since been worn away with the passage of time. It is structurally sound, clean and stain-free, but with surface copper oxidization showing through inside. The smooth and shiny outer wall is particularly attractive and a has bright golden bronze colour.
A Tibetan silk brocade bowl cushion, padded striker, and teak and suede ringer are all included in the price.
{audio}jambati1-66.mp3{/audio}
listen: (3 struck notes and 1 played note)